We were recently invited to a Star Wars costume party and so we arranged to visit a specialist fancy dress store that holds a wide variety of Star Wars costumes and even claimed to have ones that could fit a guy like me at 6'5".  Well, it turns out they were right – sort of.
The shop turned out to be more like a warehouse and was full of a really great selection of all sorts of fancy dress costumes on all sorts of themes, from Gothic horror (Dracula, Frankenstein and stuff like that) to gangster gear and so on.  Of course the part we were most interested in was the Star Wars universe stuff and I was really pleased to see lots of alien outfits as well as the usual Star Wars stormtrooper costumes and Darth Vader.  Although were shopping for costumes for adults there was a great selection of items for kids that would be awesome for a childrens Star Wars costume party or Halloween. The whole party outfit thing has got me feeling young again – let the party games begin!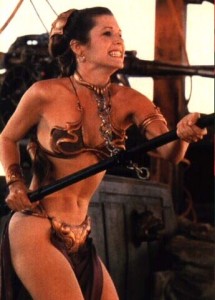 Despite trying my hardest I couldn't convince my girlfriend that a Princess Leia slavegirl costume was a good idea.  She definitely isn't shy, but I respect her decision.  Actually, she convinced me of this by asking me to wear the Chewbacca costume.  I did toy with it for a while, but the idea of wearing a furry wookie outfit in the middle of summer put me off. The head piece/mask was hot enough. The actor playing the role in the actual movies (Peter Mayhew) deserves a medal. As he is 7'3″ in real life I guess that his authentic Star Wars costume would have been too large for me anyway! Filming in a furry suit in the desert really is going far beyond what you would normally expect of an actor.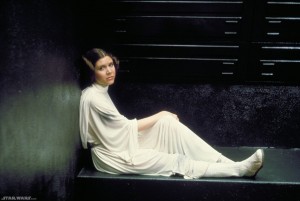 We eventually decided to order the Princess Leia outfit from when she was held captive on the Death Star in Episode 4 and a the Star Wars stormtrooper outfit for me.  The body armor took a bit of adjustment, but it fits OK now which was a relief.  It has an expanding section in the middle which allows you to bend over etc and this section was elongated to fit me as I am quite tall.  As it is covered by a utility belt type of thing it isn't as obvious as it might have been and I am quite happy. The armor panels sit on a sort of overall so the outfit allows you to cool off which is really great.
The best bit of the costume is that the stormtrooper helmet has a voice processor built in!  Yes, it could be extremely annoying long term, but it eats batteries so that probably won't be an issue for anyone else but me.
Really looking forward to the party now that we both have Star Wars costumes to be proud of!